Sunrise's
Professional Metal Roofing Contractors
Being here reading this page means you are trying to get some help for your projects or needs related to metal roofing systems. If we are right, then you are definitely in the right place. Our company Elite Metal Roofing Contractors of Sunrise is one of the best in the cities that can help you to deal with any problem you have with your metal roof. Or maybe to start a new project that involves installing a new roofing system, re-roofing or retrofitting the existing one, or anything that is in your mind.
How are we able to do this? Thanks to our well-trained and qualified metal roofing contractors.  Now that you know this, we want you to know that whenever you have an issue related to this part of your property, in particular, you must make sure to contact experts and professionals. Many people—and this includes homeowners and business owners at the same time—forget that roofing can be dangerous and it is not easy in any possible way but rather the opposite.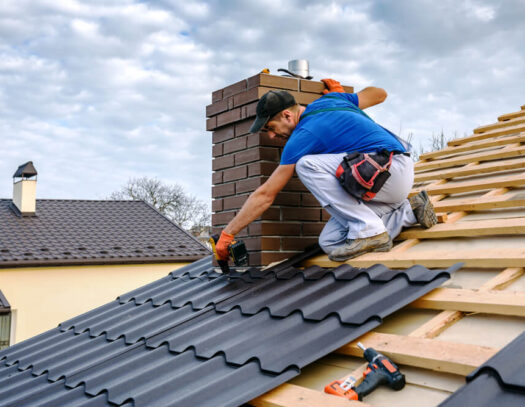 However, over 50% of metal roof owners decide to handle some projects and problems by themselves, ending in some accidents taking place, more damaged roofs, and more difficult systems to deal with. Most of those property owners end up contacting companies like us because they were unable to handle it by themselves. Do you think it is necessary to get to the extent to understand that sometimes, things need to be handled for a professional?
We don't think so. Therefore, if you have any project in mind or need some help, do not hesitate to contact us. That being said, why would you need us. Our metal roofing contractors can help you by offering and delivering all the services available in our company and assisting you in any challenging project you have in mind. To give you a better idea of what we are capable of and how we will help you, keep those services in mind:
The first installation of a metal roof is as important as performing maintenance. Most of the serious problems and repairs that need to take place in a metal roof are caused for a poor installation. For example, when you leave space between the walls and the panels of the roof, you will end up with gutter in the stucco and some filtrations that will not only involve our contractors but also an expert that can help you with your walls.
There is a lot at risk when there is an installation that does not meet the standards. Therefore, count on us for such an important and crucial task. We will make sure to get the best installation for you and guarantee you are not only able to prevent serious problems from taking place but also enjoy your roofing system for all the decades it should be able to last.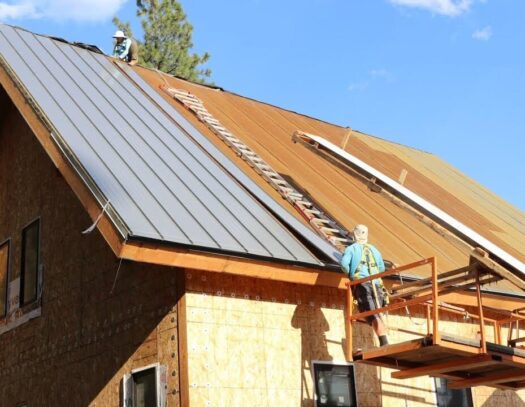 Repairing holes, leaks, and more. 
Whatever the problem is, you do not have to look for any other contractor or metal roofing expert. We mentioned a few repairs before that might take place depending on your situation. And now, we want to tell you that if they indeed end up needing to happen, you can contact us and we will deal with them in no time.
Of course, our repairing services include small repairs like replacing the fasteners or nails, recoating the roof to prevent rust and corrosion, and every similar one that sometimes is more part of maintenance. Holes and leaks are quite common after the roof has been installing for several years, which is why we decide to put them as the main ones for now. In a few words, you can count on us for any repair that needs to take place.
How do we know our contractors will be the solution to your problems? Because we have made sure to train and prepare them to be. Having a metal roofing company in Sunrise and Broward County overall takes a lot of time and work. After all, the competition is tougher than you might think. 
However, we are not really focused on our competitors but rather worried about being able to cover your needs and help you with every project. This is why we have trained our experts and we continue to keep them updated with new roofing systems, methods, machines, tools, and everything that is added to the industry. This helps us to always guarantee the best results and services, plus the equipment and tools we provide them, there is no way we miss this objective. What we are trying to tell you is that our contractors have been in the industry for a while, just like us, and we have made sure to make them what you want and need. 
We are not trying to brag about it or compare ourselves to other companies. We just want you to know that we are capable of performing any service, delivering the best results, and helping you from decision-making to removing or replacing an entire metal roof on your property. If you have your doubts and need more information about our experts, you are welcome to contact us and ask all your questions. 
We will not force you to hire our services when you call, email, or visit us. After all, it is completely normal to want to clear some doubts and make sure we are what we are showing you right now. Actually, we are happy that you decide to take the time to learn all this and make sure you are going for the right option and contractors in the industry.
That being said, we will never disappoint you. You must know we have several ways to show you what we will be able to do for you, and our list of services is a good place for you to start. For more details or to hire our contractors, you can contact us all year round and we will answer right away.
Time to Replace Your Roof? We Can Help
---
Considering roofing replacement? When it comes to roofing projects, many homeowners rely on professionals to get the job done. At Elite Metal Roofing Contractors of Sunrise, our specialists stick to all the industry standards when installing metal roofing on both residential and commercial properties. Therefore, you can be sure of getting a sturdy roof on top of your house. As a result, you can get the best services from our company in the following fields;
What Locations do we Serve?
---
Elite Metal Roofing Contractors of Sunrise is a name you can trust and rely on. Our metal roofing services were limited in Sunrise, FL when we started. But with time our company has expanded and is now serving over ten locations within Florida.
It shows how reliable we are. Here are some places within Florida, where you can access our world-class metal roofing services: –