Sunrise's
Metal Roofing Installation, Replacement, & Repairs Pros
Not too many people in Sunrise or the entire state of Broward County consider having metal roofs in their residential or commercial properties. Let's be honest whenever you have to choose a roofing system for your property, you do not really think about metal as one of the main materials, if not the main one to be more specific. People tend to choose their roofs based on the design and style they can offer and completely forget about the rest of the aspects that matter. Like durability, longevity, and low-cost—there are still many others.
As a result, it is common for everyone to jump from metal roofs or just ignore them and go for another option. After all, what are you used to seeing when it comes to metal roofs? A plain and dull panel installed on top of the property? That's what we thought. However, those roofs can offer a lot more if you just give them the chance and look further into the plain roofs you have probably seen so far. To begin with, those metal roofs installed most likely in commercial buildings have not been placed in order to boost the beauty of the property.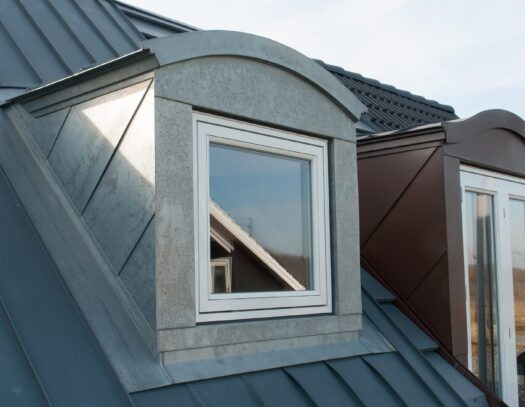 Instead, the commercial owners just wanted to get a roofing system that could protect all their goods and guarantee they will not have to worry about it anytime soon. Metal roofs, contrary to what you thought all this time, are incredibly durable and resistant. They are the most resistant roofs in the market and can offer you amazing designs and styles by just choosing some extra elements like paint, coating, and more. The reason why commercial property owners decide to choose it is that they have also seen further the aesthetical part.
Every metal roofing system in the market can last for over 40 years, even some can promise 60 or 70 years of use. Meanwhile, any other roofing system only offers around 20 to 30 years, and all this includes repairs and maintenance in order to guarantee those years. What we are trying to tell you here is: metal is better than you think. Therefore, whenever you have to install a new roof in either a new property or over an existing roof, make sure to consider every option in this market. And find the right experts and roofers that can help you to have a neat and clean metal roof installed.
Our company Elite Metal Roofing Contractors of Sunrise is one of the few businesses in Sunrise and Broward County that is willing to take any challenge. We can help you to install, repair, perform maintenance, re-roof, or carry out any other service you might need and is related to metal roofs. We have been in the industry for about 30 years, and only 1% of our clients have complained about the results we deliver during all these years. We do not have to mention our team made sure to satisfy them right after the complaints came in.
Now, why do you need professionals to deal with metal roofs? Although metal roofs are quite easy to work with thanks to their lightweight characteristic, it is important to have the right equipment, tools, and experience to guarantee nothing will go wrong. It is easy to mess up a 'simple' installation that could easily give you problems in the future due to some separated panels, holes, leaks, and more.
In the metal roofing industry, the first-time installation is like everything for the future of the roof.  You can have the best materials for both the panels, shingles, or tiles, and the paint or additions you will include in the roof. But without the right hands working with those materials, you will have a poor result. Therefore, instead of trying to handling everything on your own, make sure to contact us and we will have the installation done within a few hours and rest assured it will be the best for your property.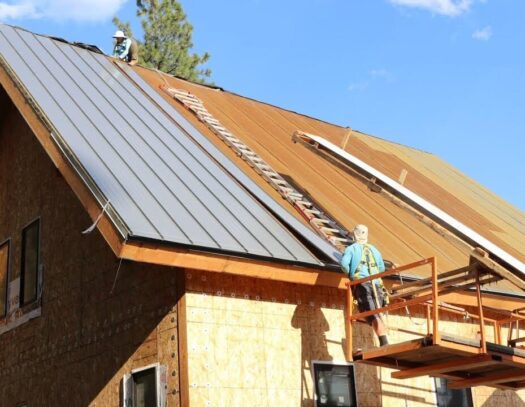 Does our metal roofing service include installation only?
Not at all. Our company can cover every need you might have and if you have a problem with your roofing, just make sure to contact us. There is a lot involved in metal roofing, and it is hard for a company in this industry to only focus on one or two services. Besides, this is not what we wanted.
Although installations are the most common services requested due to the number of new and old property owners that want to install a metal roof, if we limited ourselves to just this, we will not be the top company we are today. Thus, rest assured our team should be able to offer you a hand for any project and problem you have in your hands. That being said, it is not easy to handle with some services in this industry.
For example, re-roofing, retrofitting, replacement, and those that entail working with an old roof can give a lot of headaches. Keep in mind that whenever there is a metal roofing service being performed, we care about your and our safety. Therefore, we need to perform inspections before starting to do our job in order to guarantee everyone is safe and take the right safety measures according to the condition of your roof and property.
Now, moving onto the topic of metal roofing in general, there is a lot you need to know. Metal roofs come in a large variety of profiles, designs, systems, and the list will not be short no matter what you do. This means you have to go through several options before being able to choose one unless you already have one installed and just want the same roof or need a service to maintain it.
For whatever you need, our contractors will be your advisors as well. This is something to remember since we know you will have a hard time with the phase of decision-making. So, if you do not want to struggle, just let our experts know what is on your mind.
Time to Replace Your Roof? We Can Help
---
Considering roofing replacement? When it comes to roofing projects, many homeowners rely on professionals to get the job done. At Elite Metal Roofing Contractors of Sunrise, our specialists stick to all the industry standards when installing metal roofing on both residential and commercial properties. Therefore, you can be sure of getting a sturdy roof on top of your house. As a result, you can get the best services from our company in the following fields;
What Locations do we Serve?
---
Elite Metal Roofing Contractors of Sunrise is a name you can trust and rely on. Our metal roofing services were limited in Sunrise, FL when we started. But with time our company has expanded and is now serving over ten locations within Florida.
It shows how reliable we are. Here are some places within Florida, where you can access our world-class metal roofing services: –