Best Re-roofing
(Retrofitting) Metal Roofs in Sunrise
Replacing a roofing system is not always the best option. To be honest, it is quite a difficult and annoying task to do since it involves a lot of time, effort, and pollution. It depends on the roof you have installed, but it is not a secret for anyone that concrete, clay, or anything similar that is popular among property owners in Sunrise creates a lot of debris and dirt. Now, if we are talking about metal roofs, the story is a lot different in every single way.
You do not have to worry about debris nor having to get rid of the pieces and panels when you can easily recycle them. However, why would you choose to replace one when you can go for another option that can help you to save money, time, and continue enjoying the roof you have installed for more years? We are talking about re-roofing and retrofitting. Both options are amazing for metal roofs since they add more years of use and they are easy to deal with when you have experts and roofers working on it.
The best part? You do not have to remove anything from your existing metal roof but rather place new elements. Re-roofing is not the same as retrofitting, which is a common mistake most people in the area make when hearing and reading about them. Re-roofing is about removing some panels or shingles that are damaged or old in your current roof and getting new ones placed in order to boost the longevity and durability of the system. However, it is not always necessary to remove something.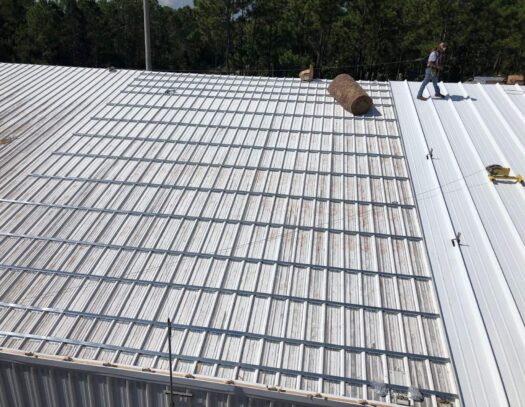 You can also go for the option of placing new panels and shingles over the existing roof. This is something only metal roofs can offer since all of them can be placed over an existing roof, even if it is not a metal one as well. As a result, people can save time and effort in having to acquire another roof and go through the entire process of getting rid of it. Now, is re-roofing what you need? That can only be determined with an inspection. The option is not usually available for roofs that are way too damaged or are practically falling apart due to the years of use.
If you notice that your metal roof is already dying, there is no need to think about this option. But if you see some future and think you can do something to continue using it, leave it to us. At Elite Metal Roofing Contractors of Sunrise, we can help you to determine if re-roofing is possible for your metal roof. In this way, you will be certain about the option you are going for instead of wasting money when there was no use for such a thing.
That being said, our professionals will make sure to handle the project themselves if your roof qualifies for it. We are experienced in it even when it is not usually requested for property owners. After all, re-roofing is usually done when the roof is too old or damaged. But if you are someone who knows it is getting old and you are willing to invest some money before it gets any worse, you can go for it as well.
What about retrofitting?
Unlike the previous one, retrofitting is more of an addition to the existing roof. Roof huggers are the elements and structures that most companies in the industry use to add support to the system. In this way, property owners obtain something similar to a base or harness for a roof. It is quite similar to a structure with a grid shape and the beauty about using them instead of going for re-roofing is that it is more than simple support.
Roof huggers or any other retrofitting option is installed with the purpose to support but also add more elements to the roof. Due to the space left between the huggers and the roof, you can install extra panels that meet a specific function. People in Florida, for example, decide to add some panels to reflect heat or boost the resistance of the roof to a specific element.  In short, you can have more things added with retrofitting, but it is not always necessary.
Both options are great if you are just trying to obtain some support and have your metal roof for some extra years that will be completely worth it. But you need to make a choice since you cannot go for both options. It is not the most suitable situation since, why would you perform retrofitting after re-roofing or vice versa when you technically got the same results?
Well, not the exact same results, but you definitely got what you wanted and needed for your roof, and this will be determined and confirmed for our experts. That being said, what is the best option for you? This is something we can only know after the inspection is performed. After all, not all roofs require the same attention or elements.
You can end up spending unnecessary money on one when the best alternative was the other. Now, keep in mind that both actions, re-roof and retrofit, are not expensive. They are quite affordable for commercial and residential property owners, and when you think about the benefits of going for them, you know it is better than handling a replacement project right now. This is the beauty of both services: you get to enjoy your metal roof for many more years and without having to spend a fortune in the process.
Just make sure to leave the task to us or you might end up with a roof that will have to be replaced due to poor installation of roof huggers. Or maybe because the re-roofing services were not performed correctly. This is quite common in Sunrise, and we want to help you to avoid it at all costs since you also have our experts and qualified roofers near you.
Time to Replace Your Roof? We Can Help
---
Considering roofing replacement? When it comes to roofing projects, many homeowners rely on professionals to get the job done. At Elite Metal Roofing Contractors of Sunrise, our specialists stick to all the industry standards when installing metal roofing on both residential and commercial properties. Therefore, you can be sure of getting a sturdy roof on top of your house. As a result, you can get the best services from our company in the following fields;
What Locations do we Serve?
---
Elite Metal Roofing Contractors of Sunrise is a name you can trust and rely on. Our metal roofing services were limited in Sunrise, FL when we started. But with time our company has expanded and is now serving over ten locations within Florida.
It shows how reliable we are. Here are some places within Florida, where you can access our world-class metal roofing services: –