Sunrise's
Standing Seam Metal Roof Installation Team
When someone thinks about metal roofs, no one would believe they can look so neat and stunning. However, it is all about opening your mind and forgetting about all the ones you have seen so far in industries, factories, and many commercial buildings where you usually see simple and gray panels. Metal roofs can be much more with the right choices when it comes to the materials, additions, and elements you use.
If you do not believe us, take the time to look at some pictures and read what we have to say here. First, you must know that the main reason for property owners to choose it nowadays is because every metal roofing system is durable and long-lasting. Compared to other roofs like clay tiles or cedar shingles, which can last for 20 or 25 years, metal roofs can offer double or even triple the time. Therefore, expect them to last for around 50 to 60 years easily as long as you perform some maintenance periodically.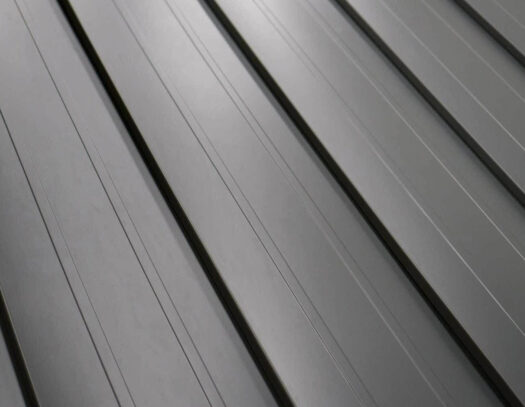 Since the nature of the metal is to not crack or break, the roof tends to resist most damages that other roofing systems cannot. This means you do not have to worry about certain sources that usually could damage your roof, nor you need to think too much about possible holes or repairs since they will not take place quite often. Now, those are the most relevant requirements you should look for in a roof but we know other aspects like price, quality, energy efficiency, and designs, are also important to make the final decision.
Fortunately, metal roofs will not disappoint in any of these, and to give you a good example and something you should consider as well, let's talk about one in specific: standing seam. Standing seam metal roofs are the most requested roofing systems among residential property owners, and it is thanks to the modern but also elegant and classic design they can obtain. It is a simple but stunning roof at the same time. People call it 'commercial roofing' since many business owners who are looking not only for a durable and long-lasting roof but also one that can look amazing and attract people, know they can count on this one for everything.
Now, we know you have your doubts and questions about the standing seam. To begin with, how does it look like? This roof consists of panels that run vertically up the roof and have their features in the raised interlocking seam which joins one panel with another. It is quite a prominent visual and characteristic from this type of metal roof only. Many people tend to mistake it for other materials or roofing systems due to how neat it looks after its installation.
It is one of those options that, with all honesty, it is better to judge and give an opinion about it after you have seen it installed not in one or two properties but several ones. After all, we are sure you will not get disappointed by how it looks. And the performance is something that is more than guaranteed since every metal roof exceeds everyone's expectations over and over again.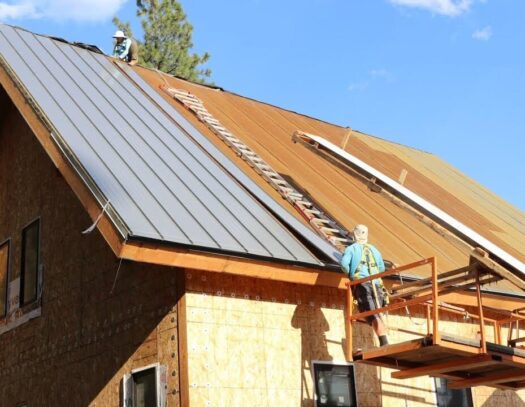 Is it worth installing a standing seam for your roof?
There is no question or doubt about it. This metal roofing system is promising in every possible way, and not only what we have mentioned before. If you are worried about the price, which we know you are, don't be. The cost of standing seam ranges from $5 to $26 per square foot. But you can easily go for the cheapest option and still get a stunning result.
The reason why it can be expensive for some people is due to the materials they decide to use. The panels for standing seam can be made of aluminum, steel, copper, or zinc, being the last two the premium options in the market. However, steel and aluminum are the most popular ones not because of the price but rather the variety they give in designs and colors. You can usually obtain more in the aesthetical part with those two, compared to copper and zinc. Now, which one is more durable?
Zinc is known for being able to last around 90 to 100 years, all this with proper maintenance and repairs. But keeping things in an average range, steel and aluminum will not fall behind. Any panel made of those materials and with the right coating can last around 60 to 70 years easily, and you will enjoy a roof that is not only stunning but also amazing in performance. Regarding the appearance or look of your roof, the design you can obtain is usually modern at all moments.
You can get creative and experiment a bit with the colors and extra features you might be able to add to the standing seam. However, we consider that the beauty of the roofing system is how simple it can look while also providing a neat and elegant design. Wouldn't you agree with us after looking at some pictures? We are sure you would!
That being said, do not worry too much about the price and final options for a standing seam. They are affordable and accessible for any residential or commercial owner. Just make sure that you are going for the right materials and professionals that will guarantee the best results.
In our company, Elite Metal Roofing Contractors of Sunrise, we offer all the materials required to install the roof and take care of it later on. Also, our contractors and professional roofers are nothing more but qualified and experienced in a standing seam. You can count on us for any project you have regarding this metal roof in specific, and many others you might get familiar with in the process.
Rest assured that we will obtain that modern look you are looking for without too much effort nor we will make you waste more time and money than necessary. Want to go for standing seam? Let us know today!
Time to Replace Your Roof? We Can Help
---
Considering roofing replacement? When it comes to roofing projects, many homeowners rely on professionals to get the job done. At Elite Metal Roofing Contractors of Sunrise, our specialists stick to all the industry standards when installing metal roofing on both residential and commercial properties. Therefore, you can be sure of getting a sturdy roof on top of your house. As a result, you can get the best services from our company in the following fields;
What Locations do we Serve?
---
Elite Metal Roofing Contractors of Sunrise is a name you can trust and rely on. Our metal roofing services were limited in Sunrise, FL when we started. But with time our company has expanded and is now serving over ten locations within Florida.
It shows how reliable we are. Here are some places within Florida, where you can access our world-class metal roofing services: –