Sunrise's
Metal Roof Replacement Roofing Team
In Broward County, metal roofs are more than just popular among property owners. They are definitely the first option for both commercial and residential owners, and the reasons behind it go from the simple materials you can use to how easy is to deal with some projects no one would want to go through with other roofing systems. That being said, let's start from the beginning and answer a common question: why would someone install a metal roof?
Unlike what you might think, metal roofs are durable and can last for over 50 years, which is double and even triple compared to what other roofing systems can offer you. The best part about this is that you will not sacrifice beauty and design for durability and longevity, which is what many people believe when going for metal roofs. You might be used to see plain and boring metal panels installed in industries, factories, and more. However, you can have stunning designs when choosing the right elements and materials for the roof.
In general, when choosing the specific metal roofing system for your property. This takes us to the next aspect: they are low-cost. Every metal roof is affordable for property owners since aluminum and steel—which are two of the most used materials for metal roofs—are cheap and can be paid for by most people in the county. Of course, metal roofs have their own premium options like copper and zinc, but you do not have to go for them to get the desired result—unless you are willing to.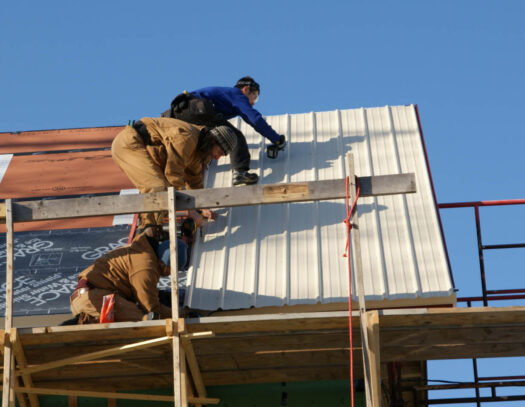 Now that you know all this, what about the future of the roof? Is it positive or just disappointing? Overall, you will not have to worry about frequent repairs, maintenances nor replacements. Since your metal roof can last for decades, and this includes only a few maintenances and small repairs, there is no need to worry about bigger problems like having to replace the roof anytime soon. However, when the time comes due to the years it has been installed or maybe it suffered serious damage that requires to change it, you will need professionals to do it.
For any project and service metal roof-related, you will need experienced and qualified roofers that can help you with it to guarantee the best results. In the case of replacements, make sure to contact us at Elite Metal Roofing Contractors of Sunrise. Our company works with metal roofing systems and everything related to them. Therefore, you do not have to worry about the task being done correctly or not since our roofers have been in the industry for over a decade, and we make sure to equip and train them properly.
That being said, when would you need to replace your metal roof? Just like any other system, it gets old and deteriorates not matter what you do. When this happens, it is only natural to look for a brand-new roof that can take its place. In the case of replacing it with another metal roof, the job will be done sooner than you think. Dealing with any roofing system made of this material is quite simple because all of them are lightweight.
This means that the entire process of removing the old roof and installing a new one can be done within a few hours or days depending on the size of the property. Does everything make sense so far? Then, here is a question: do you need to replace your metal roof? If you are here, we are sure you at least have some suspicions about having to go through this process. If we are right, make sure to not delay it any longer. For a metal roof replacement, the company always needs to perform an inspection to determine and know the actual condition of the roof and know how to work around it.
Keep in mind that every roofing service involves a level of danger, which is why taking the right safety measures is crucial. For this, we need to know the real problems with your metal roof and how we are going to proceed to replace it.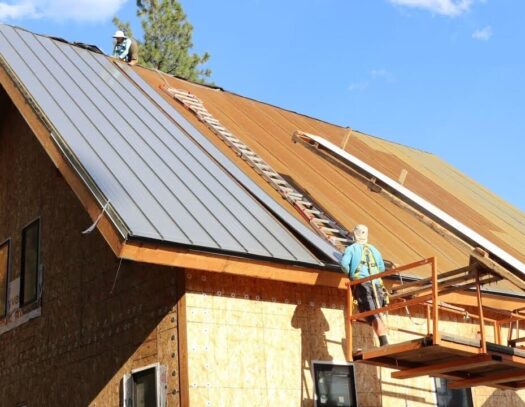 Contacting us for your replacement problem and need
If you decide to leave this task to us, there are a few things we want you to know:
The inspection is mandatory
We know some property owners do not like the idea of performing an inspection, but this is not negotiable for us. We are talking about a process that is not only for our safety but also for yours and the result of the project and service. Now, if you are worried about the price or cost of the inspection, don't be.
Our company does not charge for this service since we have a program of free roof inspection. This means you will have our professionals there before or after you request the service or decide to hire it, inspecting your roof to give you the real information about it.
We will start to work right away
If you have an idea of the new roofing system you want to install, there is nothing else to think about. However, unless you are going for the same metal roof you had installed all this time, choosing the colors, profiles, and even the metal roofing system overall might take you some time.
It is not easy to choose from the large variety available, but we are here to help you with the decision-making phase. As soon as everything is settled and you know the roof you want now, we will start to work and finish within only a few days.
Always let us know what you think
We are the professionals but you are the owner of the property and therefore, the roof. We want to know what you are expecting from the project and the results you always had in your mind. Thus, we want to be aware of everything that is in your mind to be able to deliver the results you want and need.
Therefore, do not hesitate to let us know what you are expecting and thinking. Is everything clear? Then, everything that is left is for you to reach out to us first.
Time to Replace Your Roof? We Can Help
---
Considering roofing replacement? When it comes to roofing projects, many homeowners rely on professionals to get the job done. At Elite Metal Roofing Contractors of Sunrise, our specialists stick to all the industry standards when installing metal roofing on both residential and commercial properties. Therefore, you can be sure of getting a sturdy roof on top of your house. As a result, you can get the best services from our company in the following fields;
What Locations do we Serve?
---
Elite Metal Roofing Contractors of Sunrise is a name you can trust and rely on. Our metal roofing services were limited in Sunrise, FL when we started. But with time our company has expanded and is now serving over ten locations within Florida.
It shows how reliable we are. Here are some places within Florida, where you can access our world-class metal roofing services: –