Sunrise's
Metal Shingle Roof - #1 Roofing Contractors
When you think about a design or style for your roofing system, does shingle come to your mind? We are sure it does since it is quite popular among commercial and residential property owners due to the aesthetic look, they are able to offer. However, there are many options available when it comes to shingles.
Many homeowners decide to go for asphalt or cedar ones while business owners risk themselves with other options that not only offer good-looking roofs but also, durability and longevity. In all honesty, any property owner should focus on obtaining a roofing system that can offer the last two benefits before anything else. Otherwise, they and you might end up with a beautiful roof, but the longevity and durability will be so poor that you will have to change it after a few years only.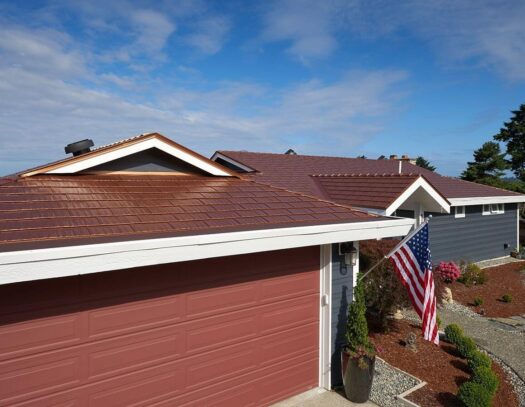 If you are not sure about what to expect or look for when you have those two aspects in mind, just focus on finding a roof that can offer you over a decade or two of use. Most of the time, when it comes to shingles, asphalt and concrete ones are not the best due to how long they can last. Asphalt shingles, for example, can offer you around 15 to 20 years of use and this includes some repairs and maintenance in order to guarantee the performance. This is not too long when you know it is quite probable you will live or use the property for all these years.
And if you want to look at it in a way where there is the possibility of you selling it, it is not a good investment. We are aware that asphalt shingle roofs are quite popular and common among homeowners, and it is mostly due to the price and how long it takes to install it. It offers you the opportunity to save money and have your roof done in a few days. But there is something you are not considering if you believe this is the best option: it is not about saving a lot of money but rather getting it back.
Metal shingle roofs are a good option to make this happen since they offer over 85% of ROI to anyone who installs this system. We know you are hesitant about metal roofs since they are not too popular among homeowners, but they certainly are among commercial ones. After all, there is something that stands out about metal shingles: longevity. While other options offer you between 20 to 30 years, you can expect this roof to last for over 50. This takes us back to what we were mentioning and the aspects we suggested you care about when looking for a roofing system.
Now, what worries people about them is that according to some stories and rumors, metal shingles do not look good. Well, this is far from reality. The beauty of metal shingle roofs is that they are perfect to mimic other roofing systems with the same basic design or concept. 
For example, if you are looking for asphalt shingles due to how they look more than how long they last, you can get the best of both worlds by choosing metal ones. You would be surprised by the variety of designs and options available with them and how people obtain the desired results without having to sacrifice some aspects or elements. What we intend to let you know with all this is that with metal shingle roofs you can get a long-lasting system, a stunning design, pay less for more, and have a roof that will look just like the one you always wanted. 
If you do not believe us, we invite you to search for some pictures and notice how metal shingles can mimic slate tiles, ceramic tiles, cedar shakes, and more. Of course, to obtain those results and mimic a system in specific, you need to choose the right materials, colors, coating, and every part that is involved in the making of the shingles. And do not forget to accompany all this with the best professionals in your area that can help you to perform a first-time installation properly in order to avoid feature problems and repairs. 
At Elite Metal Roofing Contractors of Sunrise, we can help you to obtain the metal shingle roof of your dreams as long as you allow our experts to take part in the project. We will perform the best installation and be there for you for future services that will be required, like repairs, maintenance, re-roofing, and more. You can contact us by using our phone numbers, email addresses, and visiting our offices anytime. Before you even decide to contact us, here are a few things we want to share with you about metal shingles:
Among all types of metal shingles, galvanized steel coated with a metallic finish that works as a protective layer, and the other with stones granules as the finish can mimic stone-coated steel perfectly. Both of them are the most popular and requested metal shingles in the market.
Depending on the final coating or layer you choose to apply, you can obtain traditional, classic, modern, or different designs and styles.
The average cost goes from $3.50 to $5.50, which means you can save a lot of money per square foot and still get ROI after the installation.
Copper and zinc are two of the most expensive materials for metal shingles due to their value and benefits. However, you can work well with steel and aluminum which are quite durable and long-lasting.
After installing the metal roof, it will be important to perform maintenance at least once or twice a year depending on the damage received for your roof and other elements.
Do not consider handling all the tasks and projects on your own since you can end up not only putting yourself at risk but also damaging your current roof and structure.
For more information, details, and our services, you can contact us anytime.
Time to Replace Your Roof? We Can Help
---
Considering roofing replacement? When it comes to roofing projects, many homeowners rely on professionals to get the job done. At Elite Metal Roofing Contractors of Sunrise, our specialists stick to all the industry standards when installing metal roofing on both residential and commercial properties. Therefore, you can be sure of getting a sturdy roof on top of your house. As a result, you can get the best services from our company in the following fields;
What Locations do we Serve?
---
Elite Metal Roofing Contractors of Sunrise is a name you can trust and rely on. Our metal roofing services were limited in Sunrise, FL when we started. But with time our company has expanded and is now serving over ten locations within Florida.
It shows how reliable we are. Here are some places within Florida, where you can access our world-class metal roofing services: –