Sunrise's
Top New Construction Metal Roofing Contractors
When you have a new project in mind, like building a new property either residential or commercial, you already know you will be busy for the next few weeks—or months. However, it is exciting to finally have something that is yours and have the opportunity to build it from zero. Now, does it take a lot of work? It does, but it will be worth all the time.
The main reason behind this is that even when you leave most of the hard work to professionals and contractors, you still need to make decisions, pay attention to every detail, and make sure every aspect meets your expectations. That being said, some parts of the task and project will be more difficult than others, and this includes every decision you will have to make. For example, did you already decide what roofing system you will install?
This alone will take you hours since there are not only two or three options available but rather dozens in the market. Focusing on this only, here is a tip for you: try to decide the material you want to use and the exact shape of the roof. With 'shape' we are referring to maybe use panels, shingles, or maybe tiles. Now, the best option is to start with the material so you can start to reduce options and stay with the variations and designs available with that roofing system in particular.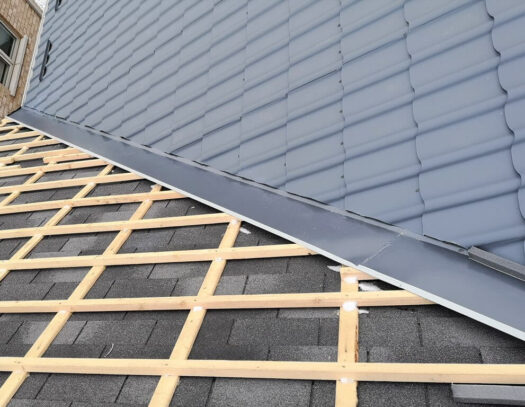 If you are accepting some recommendations, you should consider metal roofs for your property, either if it is for your home or business. Metal roofs are popular for many reasons but the main ones are durability and longevity. A metal roof can last for over 40 years, and unlike other options like clay tiles, slate, or concrete, you will not have to worry about the roof cracking, shrinking, or breaking. This only means its durability is much better than most options in the market. However, we understand if you have your doubts about this since they are not perfect.
Rust and corrosion are two common problems that can be controlled with the right coating and paint but you still need to be careful with them. Now, focusing on this roofing system and taking it to your project of new construction, is it a good option? Absolutely! And we guarantee you will not regret your decision. For homes, metal roofs offer a large variety of designs and profiles, plus many colors and some textures you can obtain with some specific elements and additions. The best part about installing any of them in new construction is that you can get a bit more creative.
You can go for shingles, tiles, or panels and still get freedom in the final result you want. If you want a modern and elegant design, standing seam is probably the best option and you get the chance to change the colors and more. While stone-coated steel sounds and is perfect for traditional styles for your property. When we said you have freedom with your roof, we were not referring to the options available only. You see, metal roofs are perfect to mimic some roofing systems in the market, like slate, cedar shingles, clay tiles, and even asphalt.
This means you can get a roof that will not only last for decades and get you over 80% of ROI but also have one that will look stunning thanks to the design and final result you will obtain. To have the perfect metal roof installed in your new construction, make sure to contact us at Elite Metal Roofing Contractors of Sunrise. Our company is available in all of Broward County and can help you with your new construction project in order to have the most stunning, functional, and well-installed metal roof in the area.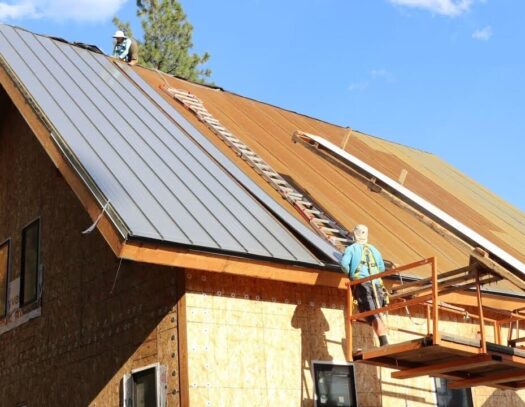 How do you know which metal roof is the best for your new construction?
It will all depend on the specific material you want to use, the design you want to obtain, and your budget. The best part about metal roofs is that you have options to choose from. You are not limited to going for one that is too expensive but could give you what you want and need. 
Instead, you will be able to get the style, color, and extra benefits with the installation of your roofing system. When it comes to choosing one, in particular, we already mentioned that you can start by deciding the material and if you want to use panels, shingles, or tiles. Choosing the final roofing system lies in the decisions you make from the very start. But if there are a few aspects you need to keep in mind to come up with the best, remember that the climate and structure are relevant as well. 
Aluminum—one of the materials for your panels or shingles—works amazing with properties located on the coast while steel is better for those where heavy rains take place. However, the climate is not a big issue when you also choose the right coating that can make the roof resistant to fire, water, and certain weather conditions. Is this too much information? You can always rely on us for this project. 
Our contractors and experts will help you to choose the best metal roofing system that will meet your preferences in design and needs. Also, we can provide advice for you to be able to make the decision fast and while our contractors are in the process of installing the roof. We know it is a lot of work and this is why we want to offer you as many hands as we can. Therefore, count on us for any issue, problem, difficulty, and needs you probably have.
We will be there for you all the time and make sure you are getting the metal roof you not only want but also deserve. For more information about this service and our company, feel free to contact us and speak with one of our experts.
Time to Replace Your Roof? We Can Help
---
Considering roofing replacement? When it comes to roofing projects, many homeowners rely on professionals to get the job done. At Elite Metal Roofing Contractors of Sunrise, our specialists stick to all the industry standards when installing metal roofing on both residential and commercial properties. Therefore, you can be sure of getting a sturdy roof on top of your house. As a result, you can get the best services from our company in the following fields;
What Locations do we Serve?
---
Elite Metal Roofing Contractors of Sunrise is a name you can trust and rely on. Our metal roofing services were limited in Sunrise, FL when we started. But with time our company has expanded and is now serving over ten locations within Florida.
It shows how reliable we are. Here are some places within Florida, where you can access our world-class metal roofing services: –