Sunrise's
Stone-Coated Steel Roofing Installation Pros
Choosing a roofing system is not simple, even when you choose a specific material for it. In this case, we are going to focus on metal roofing systems only and we are sure that if you are here, that means you have made the decision of going for any of these for your roof. Now, when you decide to focus on metal roofing only, does it end up being easier to choose a roof for your home or business?
It is easier since you are removing any other roofing system that is not made of metal, but you still have a large variety available in this industry. However, you can continue reducing the options by asking yourself those questions and answering them as well:
What design am I trying to obtain? 
How much money can I spend to obtain the roof? 
Do I prefer aluminum, steel, zinc, or copper for the panels, shingle, or tiles? 
Is there a specific roofing system I would like to mimic or have installed? 
What is the best option depending on the city I live in and its climate? 
Am I willing to spend a bit more in order to get a better ROI at the end of the day? 
Depending on the answer, you will have pretty much a metal roofing system knocking on your door and telling you, "I'm the one you need and want".  Now, we want to help you to make the entire phase of decision-making easier. Therefore, let's focus on one specific for now.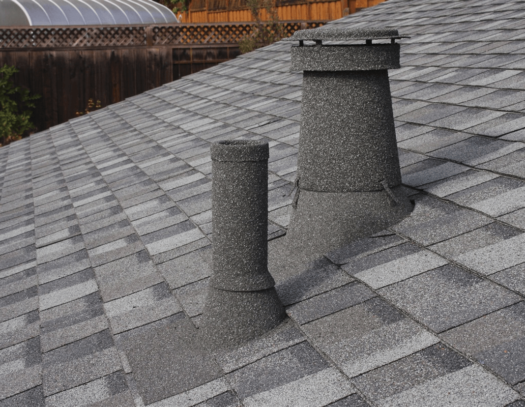 But to get to the point of why you would want it or need it, your answer to the following questions must be 'yes':
Do you want a traditional design?
Are you willing to invest around $1 or $2 more compared to roofing systems like asphalt or concrete tiles and shingles?
Do you like the idea of having a texture similar or just like a stone?
Are you looking for a durable, long-lasting, ecologic, low-cost, and energy-efficient roof?
Well, all this can be covered for one metal roof only: stone-coated steel. This metal roof is quite similar to cedar shingles and slate, which is hard to believe due to the specific features and design they have. However, if there is something famous and known about metal roofs is that they're perfect to mimic certain roofs.
In this case, stone-coated steel can do this with not only the previous two but many others as well. If you want a simple and basic explanation about how stone-coated looks, we can say it is just like traditional shingles. This is why the design you have in mind will be completed with it. Now, it is true that to make the final decision you need to be aware of all the pros but also cons of the roof. Therefore, let's go over them:
Pros of stone-coated steel 
Metal roofs in general are durable and long-lasting—as we mentioned before during the questions but in an indirect way. Stone-coated is not the exception for this, which means you will not have to worry about having a roof that will not last for over a decade. Instead, you will own one that will last for at least 4 decades. That being said, this roofing system is more an investment than actually an expense.
You will get over 80% of ROI thanks to how steelworks and will benefit your property. Starting with preventing and avoiding repairs every month, maintenance only needs to be performed once or twice a year, and as long as you had well-trained and qualified experts and roofers handling the first installation, you will not have to think about problems for the next 10 years. Unless the roof receives some damage from external and unknown sources. Now, about the aesthetical part, you can get different textures and finishes according to what you use. With this metal roof, in particular, coating and the last layer of stones is everything to obtain the final result. Therefore, you can always play and be a bit creative to make it unique and different.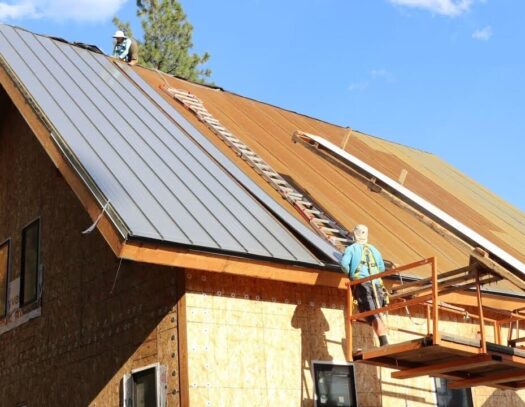 Finally, the best benefit of it is that it is completely safe. One of the easiest metal roofs to install is this one due to how simple it is to move the shingles and steel pieces. Also, the structure in general allows roofers to walk over the roof whenever a repair needs to be done or maintenance is performed, among other services in the future. You cannot go wrong when it comes to performance, functionality, and appearance with this roof.
Cons of stone-coated steel
Metal roofs in general always have three problems in common: rust, corrosion, and noise. Many residential owners do not like the idea of installing one due to how noisy they can be, and we cannot deny this. However, all these problems can be solved or handled with some additions. 
In the case of rust and corrosion, the coating you decide to use will play the most important role.  For stone-coated steel roofs, the shingles or tiles already have a zinc coating—as mentioned before. Zinc is another metal option for your roof, but it is quite expensive due to the value it has when it comes to resistance, durability, and longevity. However, when you apply a coating layer of it over steel, you will obtain a metal that is not only resistant to rust but also corrosion. 
You will obtain an affordable roof with the benefits of the zinc to some extent. Now, about the noise, some covers can help you with it. Stone-coated roofs do not have this problem overall thanks to the stone chips layer. They cushion the sound and help to not only reduce the noise but also cool down the property—which adds another pro to the previous list. 
To be honest, it is hard not to choose this roofing system when you know that the main problems can be solved with some decision-making while getting the materials and the panels done.
Just make sure that if you want the best results and get all the benefits and avoid the problems, you hire contractors are experts like the one in our company, Elite Metal Roofing Contractors of Sunrise. We will help you with everything thanks to them.
Time to Replace Your Roof? We Can Help
---
Considering roofing replacement? When it comes to roofing projects, many homeowners rely on professionals to get the job done. At Elite Metal Roofing Contractors of Sunrise, our specialists stick to all the industry standards when installing metal roofing on both residential and commercial properties. Therefore, you can be sure of getting a sturdy roof on top of your house. As a result, you can get the best services from our company in the following fields;
What Locations do we Serve?
---
Elite Metal Roofing Contractors of Sunrise is a name you can trust and rely on. Our metal roofing services were limited in Sunrise, FL when we started. But with time our company has expanded and is now serving over ten locations within Florida.
It shows how reliable we are. Here are some places within Florida, where you can access our world-class metal roofing services: –